Basic information
The Lineage 2 Academy was created to help newbie players. In addition, for the graduation of academics, the clan receives clan reputation points necessary for development.
E-Global Masterwork team ensured that the Academy system remained in demand at every stage of server development:
The presence at the Academy was extended to level 60 (48/52/60 level 1/2/3 server stages, respectively)
Academics get useful effects and items for character development
Clans receive reputation points and special items to active clan skills
---
Info for newbie
At the beginning of the game, each player is faced with a lack of resources for character's development. Some stoically suffer hardships and develop through knowledge and perseverance, others look to the Donate Shop, where you can buy items for a certain amount of money for a comfortable game.
What to do if you don't have enough time for the first option or beliefs don't allow you to resort to the second? There's the solution!
Academy — a place where students get pleasant effects to facilitate exping, as well as bonuses for success in development.
Pay attention!
All players have access to daily quests from the NPC Adventurer's Guide, which can be found in the cities near the teleport. The character is rewarded for his quests

Ivory Coin , which are exchanged with NPC Adventurer's Guide for useful items.
---
How to come to Academy?
Get to the Academy in 2 ways:
The classic way — through the ad about recruiting in chat
Masterwork way — clan finder system
Consider the second way more detailed.
---
Clan system search
E-Global Masterwork implements an automatic clan system search. To find the Academy quickly, open a clan search window, select the right clan and apply. There are two ways to do this:
"Quick" button "Enter" is located at the bottom left of the screen. Click on it and the search box will open
Go to the main game menu (bottom right corner of the screen), select "Search Clan", click on it and the search window will open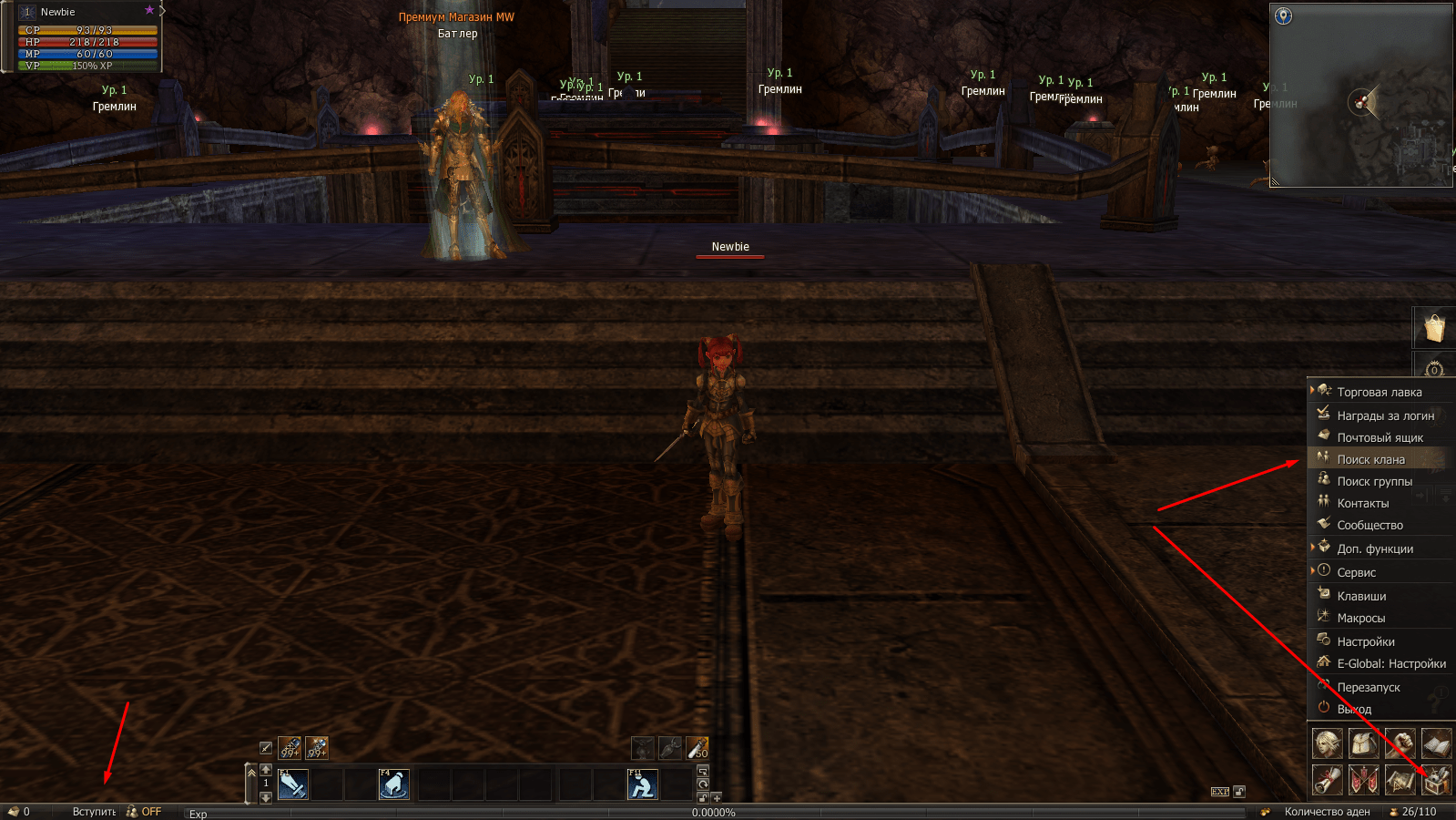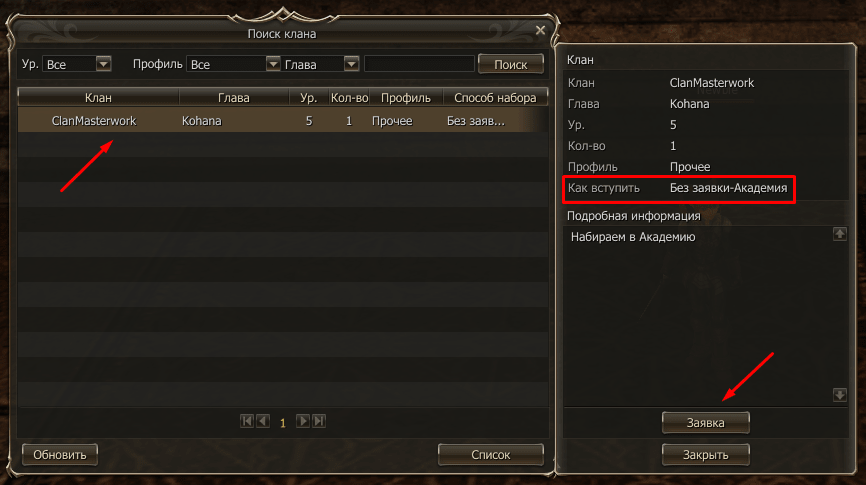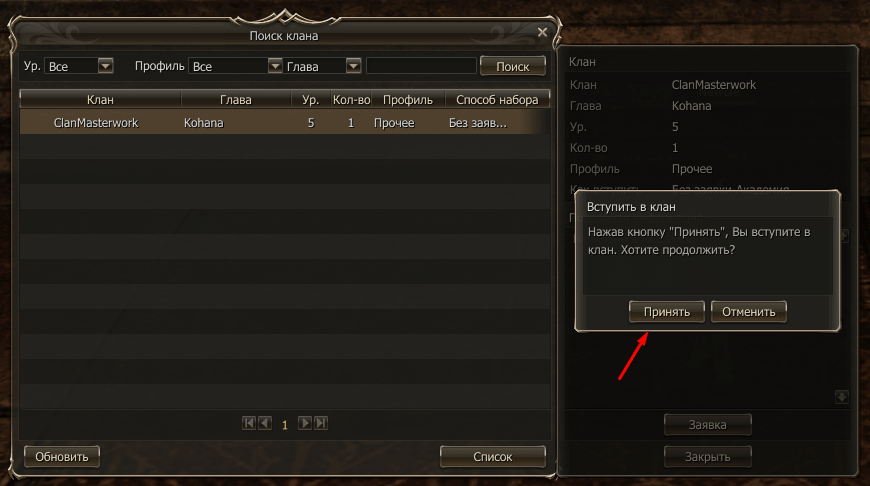 ---
Bonuses for Academics
The Academy system was originally designed to help newcomers socialize and adapt to the game. Our team went further - passing the Academy allows players not only to make new acquaintances, but also to get useful effects and items for character's development.
Special clan skills

Academy Favor
Being at the Academy, you get a constant effect that increases your parameters:
Attack Speed +15%
Cast Speed +30%
Max. HP +30%
Speed +20
While you are under the Academy Favor effect, You are immune to the effects of Rhythm of Rage and Rhythm of Body.

Clan Unity
Also available to all academics clan buff bonus Clan Unity. 10+ Clan Members Online — each clan member gets EXP & SP bonus, HP & MP Regeneration, PvE Attack & Defense.
Maximum Clan Unity level allows you to get the following bonuses:
EXP +7%
SP +7%
HP Regeneration +15%
MP Regeneration +15%
PvE Attack +5%
PvE Defense +5%
Second profession rewards
After getting 2d profession, you don't leave the Academy, you get useful bonuses:
The Legacy of Academy is a quest item that duplicates the bonus from the Academy Diadem and also provides an additional bonus to experience. Now you do not need to constantly wear the Academy Diadem to get a useful effect.
The Legacy of Academy has a passive effect that increases your experience by 10% and reduces your loss of experience at death by 50%. Works on characters 1-84 levels.
Among the awards there's a new item — Proof of Loyalty, which is needed by clan leaders to use clan skills. You can give this item to the leader of your clan or sell it to other players.
Academy graduation reward
After achieving some level the character will automatically graduate from Academy. For the first stage of season server it's 48 level, for Eternal server — 77 level. As a thank you for helping the clan development, you'll receive:
Pay attention!
If you were expelled during the Academy or leave the clan by yourself, the character won't receive a Penalty. You can immediately find another clan to complete the Academy.
---
Info for Clan leaders
The Academy System is the main source of Clan Reputation Points (CRP) needed to learn clan skills. Also, when graduating as an academic, the clan receives a special item Proof of Loyalty, which is used when using active clan skills.
Read more about the clan system in the article Clan on Masterwork.
The number of Clan Reputation Points depends on the level of the character who joins the Academy:
1 — 16 level — 650 points
17 level — 630 points
18 level — 610 points
19 level — 590 points
20 level — 570 points
21 level — 550 points
22 level — 530 points
23 level — 510 points
24 level — 490 points
25 level — 470 points
26 level — 450 points
27 level — 430 points
28 level — 410 points
29 level — 390 points
30 level — 370 points
31 level — 350 points
32 level — 330 points
33 level — 310 points
34 level — 290 points
35 level — 270 points
36 level — 250 points
37 level — 230 points
38 level — 210 points
39+ level — 190 points
---